Good Sunday afternoon from a vantage best descibed as the hissing of summer lawns but someone already took that title I think. Such a lovely summers day I wish I wasn't stuck with a mountain of work in front of me. A strange post today but one I wanted to share anyway though I'm not sure what you'll file it under; odd, funny, daft or vaguely interesting all come to mind. It only struck me as a bit of each but not a lot of one. Read on and make your own mind up.
While music from 1982-84 offered much brilliant stuff (despite that spell leading to the collapse of The Clash) there wasn't much about television comedy that sticks in the mind for those less adventurous broadcasting times. Whilst music was reinventing itself and challenging,  television was generally a decade behind in terms of going through anything resembling a punk phase. One notable exception was BBC's The Young Ones which ran from November of 1982 to June of 1984, I thought my memory was playing tricks on me but only twelve episodes of the comedy were ever made. At the time it was probably the most anarchic thing that the BBC had ever ran in the 80′s and upon research I found out that the only reason it ever got commissioned was the advent of the new television channel (Channel 4) in the UK and the BBC fearing that any 'alternative' audiece would migrate to the new station en masse.
Background information complete and fast forward 30 years, Ade Edmonson who starred as Vyvyan Basterd no longer has orange spiked hair, in fact he has no hair at all. However in a throwback to the days before The Young Ones he now tours as the head of a band he began in 2008 called The Bad Shepherds that are deeply influenced by punk music. The three piece act features Ade on  on vocals, mandolin and mandola; Troy Donockley on uilleann pipes, cittern and whistles and Andy Dinan on fiddle and their repertoire includes a wide range of  punk and new wave covers with a folk sheen. Now 56, Ade grew up right when punk came to the forefront:
"I was 19 when punk arrived, so it's always been a part of me. But even before that I remember when we got (folk electronic band) Fairport Convention. That felt kind of revolutionary"
He plays because he enjoys it and the band just began a 5 date tour of Australia but the music doesn't aim for any comedic edge, simply a folk instrument based interpretation and loyal observance of the original songs. For Ade it's become a career love after his comedy phase ended and takes the music seriously as evidenced by the dexterity of the musicians. Worth a look if you have the chance, you can find out more via their official site or Facebook page. Dates coming up include Sydney, Brisbane and Perth over the first 8 days of May.
Source article for quote – TheAustralian.com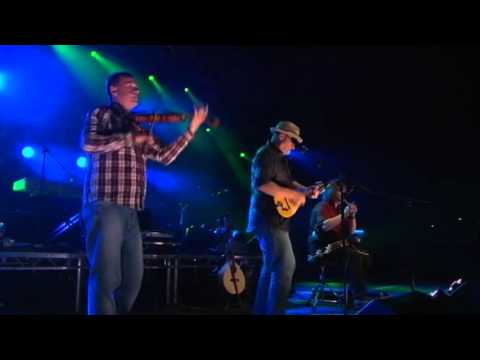 The Bad Shepherds – London Calling
 The Clash Blog News | Twitter | Facebook | Google+| RSS feed