Welcome back to the blog at the top of another week although I'd have to consider it a relatively happy Monday with Arsenal winning yet again and find themselves still top of the league. I don't expect it to last but I'll enjoy it as long as it does.
Since starting the blog back in 2009 I feel very fortunate in just how much Clash related news there has been to write about with a fairly steady amount of activity from the lads along with Strummerville and the various books, exhibitions, a play and other related coverage that related back to the band. I wondered if the blog might become a series of 'looking back' 90% of the time when in reality that's been the case less than half of the time which is remarkable considering we're now close to thirty-one or twenty-nine years on from when The Clash ended depending on where you draw that line. For me it's the expulsion of Mick Jones in September 1983.
Speaking of Mick Jones his continued appetite for a variety of work has been one of the biggest contributing factors to more current blog updates with that period of time seeing him involved in a broad range of projects. From a distance it seems that Mick has reached the point in his career where he'll take on whatever suits him at any given time, if he enjoys it he is seemingly vested and that of course is a great place to be. With the start of a new year I found myself taking stock of what might be next and while it's all speculation on my part it's still worthy of some consideration.
2012 & 2013 saw much of Mick's time spent working on remastering the studio albums by The Clash for the Sound System box set and while all three members of the band were involved with its creation it would be a safe bet that Mick invested the most time. With nothing as demanding as that on the horizon I wondered what might be next for Jones.
Carbon/Silicon: It's been a while since we heard from Carbon/Silicon but probably not as long as you might guess. It was only last April that the single Big Surprise was released and featured a video with Mick and Tony in West London. With that said the word was that the song had been recorded much earlier which makes sense. The last time the band were actively playing live dates all the way back to overseas (Ireland & Italy) gigs in 2010, hard to believe it was that long ago. On a positive note the website and facebook page are still active although we've seen no activity in a long time. The last reference to new work was via Tony James on Twitter who wrote in September that he was 'writing new songs this week'. On the one hand you might assume that the band has wrapped up yet on the other there's more evidence that they haven't yet than on the other 'maybes' below.
Big Audio Dynamite:  The successful B.A.D. tour of 2011 was well received and expanded from an original tour regimen to a series of festival appearances that summer. The critics loved it and so did those who attended it but it was always billed as a reunion tour. I wondered if there might be more to it especially when the band recorded a new song 'Rob Peter, Pay Paul' which in addition to being bloody good showed that there was a creative process amongst the reunited band. Since that time though it's been all quiet but the timing did coincide with Mick's other commitments, especially the success of the Justice Tonight campaign.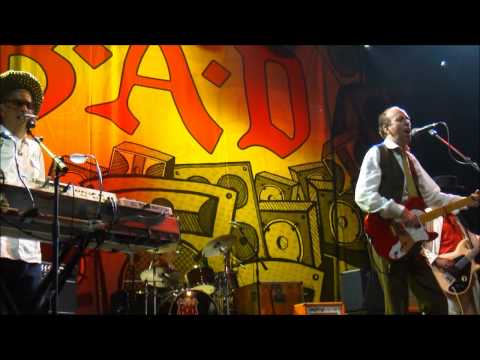 Big Audio Dynamite – 'Rob Peter, Pay Paul' – Club Nokia 2011 (video by Gil W)
Gorillaz: I'd place very long odds on Mick working and touring with Gorillaz again as he did back in 2010 but then again I never saw that coming in the first place. If anything I'd imagine Paul Simonon may very well be spending more time with Damon Albarn especially with new Gorillaz music on the horizon and their overall ongoing friendship.
The Justice Tonight Band: Here was a perfect example of Mick being asked if he'd like to be involved in something, initially a one off gig in Liverpool for the Hillsborough Justice Campaign and it just mushrooming. Asked by Peter Hooton of The Farm Mick obliged and a snowball started rolling down a hill which resulted in the hugely popular Justice Tonight Tour and then him taking part in 2012 Christmas number one single 'He Ain't Heavy'. In all of that Mick got involved because he cared about the cause and while there were rumours of US dates nothing came of that. Does that mean it's never going to happen?
Something entirely new/whatever he feels like: This perhaps seems the most likely for Mick in 2014 but again I'm only guessing. Enjoying his place as a punk Godfather throughout London and a hybrid lifestyle of low profile desire but high profile attention it's no shock that while the promotional activity for The Clash box set was eating up his days last year he also spent a lot of time enjoying time with The Rotten Hill Gang in his own neck of the woods. Now may also be a great time to find that permanent home for the Rock & Roll Public Library. Most likely though would be something completely unexpected.
Nothing at all: Always possible I suppose but based on the last decade it just doesn't seem likely that Mick will just put his feet up and attend matches at QPR and make the occasional public appearance. With that said though I wouldn't blame him for taking six months off.
What do you expect Mick Jones might be getting up to in 2014? Answer below and if you're officially in the know don't spoil the surprise on the blog *(but you can always email me).
Loading ...
The Clash Blog News  ★  Twitter  ★  Facebook  ★  Google+ 
★ Tumblr  ★  Pinterest  ★  Donate to The Clash Blog ★