Hello and welcome back again. A strange day as the Clash blogette had a painful trip to the Doctor and now I'm playing nurse…if you know me you realise that's probably not a sentence you would want to hear from my lips.  She'll be fine….right! Okay then on to matters Clash and there are a few pieces for your persual. First off –  don't forget that this Thursday marks the debut of 'Breaking Rocks' the JGD film in Camden. If you are in London or nearby I'd highly recommend you take the tube to Camden Town and the short walk for a great event. As far as I know tickets are still available, if you know different please let me know.
It seems Mick Jones made a short trip to the South of France last week to appear at the Festival Marsetac with Rachid Taha (as his guest I believe). Video clip is below and as you can see it seems to have been a splendid time – I'm waiting to learn more. That sounds like the perfect weekend, a music festival and Marseilles which is such a lovely city. It's really great to see just how public Mick Jones has been since I started the blog, it makes you wonder where he might show up next. I hope it means the Carbon Silicon album is ready to go and not that he has other time to spend elsewhere? Further info on Rachid Taha on his myspace page. Additional video of Rock The Casbah has now surfaced too along with other great clips though not sure about Mick Jones doing an Algerian dance!!!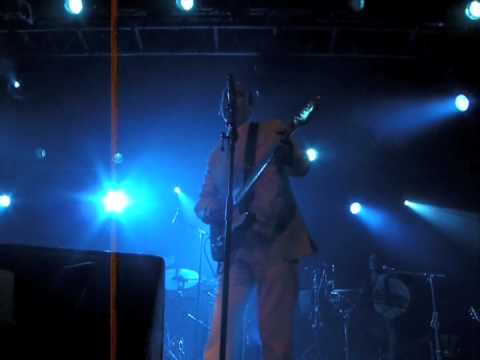 San Francisco has always been an interesting city for music and along with Los Angeles had it's own very vibrant punk scene back in the day. With that in mind this book review sounds great (and of course reference our boys). Gimme Something Better is available now in the US from $12.25 on Amazon.
Billy Bragg sits down with the Newham Recorder (East London's finest) and further explains the inspiration behind the Jail Guitar Doors project.
Visitors to the blog who live in the New York area should try and visit the following exhibition which starts October 30 and runs through til the end of January. Amongst the collection of Rock and Roll photography are some Clash pieces by Pennie Smith which would be nice to see first hand. Full details with address and hours etc are here.
Finally….I learned a new word today – Rhotacism. It's the inability to properly pronounce the letter 'R' and no I'm not making light of it. The
examples that come to mind Jonathon Ross in the UK or Barbara Walters in the US (or Elmer Fudd globally). Why am I mentioning this? Well I found a list of famous people with speech impediments and Joe Strummer is on the list for Rhoaticsm. I've seen dozens of interviews with Joe and of course all the songs…surely I would have noticed it?? Does he actually sing White Wiot? Am I missing something? Answers on a postcard or via comments please.
More soon – Tim