Tuesday evening, no clouds, cooler temperatures and some unfinished business to attend to. Overall not a bad day to drop in at the blog although I'm at sixes and sevens about what I want to be when I grow up. Follow your heart of follow the money, I'm electing to follow my heart and try and make a living out of this writing thing. So if you know anyone who needs help with website content, setting up a blog or SEO for an existing site just point them in my direction. Consider that advertising and it didn't cost you a penny. I was reading more about the economy and the various 'occupy protests' swelling up everywhere and it made me write at length about the fact that some drastic change is needed soon and I don't think either of the existing parties in the US (nor many of the standard choices elsewhere) are going to get things 'fixed'. Too much water under the bridge and too many politicians have already been bought and sold if you ask me. Our local #occupy event takes place this Saturday, if I had my beat reporter costume I'd go down and interview some of those who are mad as hell and don't think they can take it anymore.
As for The Clash Blog; I thought tonight would be a good opportunity to finally share some of the video footage of Mick Jones and a collection of others performing in Liverpool for the 'Don't Buy The Sun' event that took place recently. I realise this is overdue but other things kept popping up so if you've already seen all of the footage below pretend you haven't but better still please let me know what you thought. Some have said it was 'as near to spirit of The Clash as you can get' which is really saying something.
Regardless I wish I was able to attend this one in person as it did look special. Above and to your left you'll see a quote from The Farm (I assume Mr. Hooton) sent to me via Twitter, it did seem to have been a special night for Mick and one that apparently continued until dawn the next day. There is some photographic evidence of that at Liverpool Lime Street Station which I really must include in a future post. Until then however all that's left for you to do is hit the play button on the videos beneath and for me to thank IcicleWorker and Whichway for the videos. Cheers.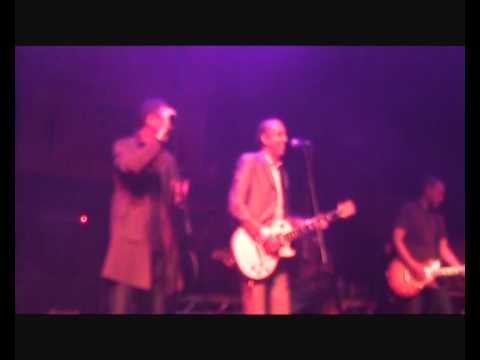 Mick Jones & Pete Wylie – 'Train in Vain' Olympia Liverpool 24/9/11
Pete Hooton, Mick Jones & Pete Wylie – '(White Man) in Hammersmith Palais' Olympia Liverpool 24/9/11
Pete Hooton, Mick Jones & Pete Wylie 'Armagideon Time' Olympia Liverpool 24/9/11
The entire evening looked to have been top shelf and you can also see 'Stay Free' and 'Rush' performed plus a host of other great tracks from the evening if you follow the links I provided just before we got to the videos. Were any of you there that night? What did you think? If (perhaps due to age) you missed out on The Mighty Wah! and The Farm check them out as they were both excellent, shit my list of Liverpool bands is as long as my arm. Echo and The Bunnymen, The Teardrop Explodes (+ Julian Cope solo), The Pale Fountains, The Lightning Seeds, The La's, Shack, The Boo Radleys, The Icicle Works, Benny Profane, Wild Swans to name just a few. Viva Merseyside!
That's me done for now – more tomorrow I'd imagine.