As always on this anniversary The Clash Blog is handed over to you for the next 36 hours or so. I'll update it as often as I can but please add your memories of Joe, messages of Joe, favourite quotes or lyrics, favourite photos or videos or anything whatsoever to the blog. Please include your name plus city/country if you can and I'll add what you write to the blog. Please add comments below, on the facebook page or email me, whatever works for you. (please send links to images or videos if need be) Of all the reasons I had for starting this blog back in  June of 2009 perhaps the largest one was my desire to connect some of those around the world whose life had been changed in no small measure by The Clash, I knew that there were thousands of us and wanted to try and build a place where we might gather. Of all of the posts I've written the ones that celebrate/honour/reflect or simply commemorate the anniversary of the death of Joe Strummer on December 22nd 2002 might be the most difficult and yet the most natural to share.
I can't expand greatly on what I've written in years gone by except to say we should all feel privileged that Joe made a serious dent in the world with The Clash. For me music was forever changed by The Clash along with my faith in people being able to change their own worlds, whether that was by becoming an activist in their own right or more simply by asking more of themselves. I won't try and push Joe Strummer onto a platform of sainthood for he was never that but he was someone who lived with a passion for what he did and made people question what was around them and perhaps better – what was inside them. I could write all night long (its 8pm here on the 21st) about his greatest lyrics or quotes, photos or interviews but that is not for me to decide as there are no wrong answers, we all have our favourite Joe moments and memories with each being treasured. How much can a band or a lyricist really matter to a person though? Much more than someone who wasn't reared on The Clash will ever realise – as for the seven odd years that they shone for us and the three decades since there's not been anything quite as fierce and determined in the world of rock music. Losing Joe Strummer was the body blow that changed the beginning of this century beyond recognition and it's only during the last three or four years that I can say it's time to be inspired not saddened, encouraged not bitter and grateful instead of angry. As always on this anniversary I offer my sincere condolences to the family and closest friends of Joe which perhaps includes all of us? Prior anniversaries 2010 The Street Parade | 2011 The Shadow Grows Longer | 2012 The Tenth Anniversary
So the blog is yours now, please join me in remembering Joe.
'Let Fury Have The Hour' – Stan
My favorite memories of Stummer/The Clash is when my stepfather took me to see The Police Picnic in Toronto when I was like 5…and all I can remember was The Clash and Specials…then later saw them as barely a teen for Combat Rock tour….whenever I'm jamming or singing a group….I can't help quote Stummer.."sing in tune ya bastards" – Jordan, Vancouver Canada
NEWS & EVENTS: Joe Strummer Day 2013 starts RIGHT NOW! Join Marc from midnight to 12:30AM for Clash tunes and their influences. Go to www.cjam.ca worldwide or tune in from Windsor and Detroit at 99.1FM!
He sure did leave his mark, can remember my brother having London Calling on 8 track in his car when he was in high school one of my all time favorites – Michael
You are missed my man….JOE STRUMMER left us on Dec. 22nd 2002 – Keith, Phoenix | Detroit
There are some memories and thoughts in here: http://bit.ly/1a9Pa1A – David
YOU: I don't even want to tell you this.
ME: What?
YOU: Joe Strummer died.
((Shock))
((Playing "Nitcomb" on an endless loop))
((Crying))

My memories of him are not very well-defined, as I was not exposed to the Clash until after they had disbanded, and was perhaps too musically ignorant to fully appreciate them for quite some time. But then i heard the catalog, and the Mescaleros. The publisher of this blog gave me that gift, and I shall be forever grateful. Carry on, Mr. Merrick, and Happy Christmas to yourself and the Blogette! – Donna, Boston | Phoenix
Simon: "You can't put your amp there, Joe, because we'll need to get some separation between you and the drums." Joe: "I don't know what separation is and I don't like it." – Straight To Hell, New York
I'll probably never know why I love Joe Strummer. He hit a chord in my youth that's never stopped humming. It's why I've written about him, why I wept while listening to his Redemption Song duet with Johnny Cash shortly after his death, and why I created the Strummerfest Music Festival in our little town of Kitchener, Ontario. But what that "why" is remains essentially mysterious. He's not a hero in any ordinary sense, but an inspiration to me. God bless him for what he tried to be and do, for what he was and did, and for the legacy he's left us and that keeps growing – Michael, Kitchener ON, Canada
RIP, mate. We still miss you like crazy. – Richard, Austin
TX NEWS & EVENTS – Still one of my favourite old interviews and not often heard, from KCRW in 1999
Eleven years and counting, Joe. Will raise a glass to ya today.RIP, Joe – Karl
LIVEBLOG 6am GMT: 10pm here and I'll keep going for a while yet before returning in the morning, nice to see so many of you already plus 160+ shares on Facebook, but that needs to be well over a thousand! Visits from 78 nations today, nice one. That needs to be well over a thousand! Please send in your thoughts and especially if you want a video included or a specific photo. For now I'm going to include Joe & The Meskies doing Bankrobber, keep me awake Clash City Rockers!
He will make me dance/bounce 4 ever.RIP to a very very special guy…never 4got!!!xx – Nikki, Cardiff
It is ironic to think that Joe's death has now become synonymous with Christmas. His life is always celebrated at this time of year – Ian, Brighton 
NEWS & EVENTS: See above for the CJAM 24 hour Joe Strummer broadcast, but here's the listening schedule (EST) | Washington Post article on three local events Sunday to honour Joe
"SO NOW I'D LIKE TO SAY, PEOPLE CAN CHANGE ANYTHING THEY WANT TO, AND THAT MEANS EVERYTHING IN THE WORLD. PEOPLE ARE RUNNING ABOUT FOLLOWING THEIR LITTLE TRACKS, I AM ONE OF THEM, BUT WE ALL GOT TO STOP JUST FOLLOWING OUR OWN LITTLE MOUSE TRAIL. PEOPLE CAN DO ANYTHING. THIS IS SOMETHING I'M BEGINNING TO LEARN. PEOPLE ARE OUT THERE DOING BAD THINGS TO EACH OTHER. IT'S BECAUSE THEY'VE BEEN DEHUMANIZED. IT'S TIME TO TAKE THE HUMANITY BACK INTO THE CENTER RING, AND FOLLOW THAT FOR A TIME. GREED, IT AIN'T GOING ANYWHERE. THEY SHOULD HAVE THAT IN A BIG BILLBOARD ACROSS TIMES SQUARE. WITHOUT PEOPLE, YOU'RE NOTHING. THAT'S MY SPIEL." – JOE STRUMMER – Brenda S, Snowy Mountains of Vermont
NEWS & EVENTS – Another special Strummer broadcast from 6am to noon (Pacific Time) on KALX, here's the link | Another old favourite is this article by John Robb (Louder Than War)
A huge loss to the world of music…inspired thousands of bands, loved by millions of people around the world…RIP Joe, you were a one off and the world will never see your like again – Carl, South Shields
Not just his music, but him as a person, touched and changed so many lives that knew him, met him, or like me…just admire him and try to live by what he lived by. He still lives on through his message, his fans, his work, his charity, his fight for a better world, his music, etc. Thank you Joe – Faaiza
Zappa birthday today too-20th anniv of his death earlier this month….lotsa great musical and spiritual loss …sometimes its right to feel bad for a little while…totally appropriate to the events that have transpired… – Billy, New York
Always loved,never forgotten! R.I.P. (Return if Possible)….Miss you Joe!  x – Janie Jazz
LIVEBLOG 7am GMT: 11pm here, 7am London and the official Clash Facebook page hasn't mentioned today's anniversary yet – bad form
11 years without Joe Strummer: Punk rock warlord – Pantelis, Athens
"We aren't particularly talented. We try harder!" – Christian, Toronto
I wish I could thank Joe Strummer in person. – Jason, Louisville, KY
It's 11 years ago today since the magnificent Joe Strummer passed away. Still relevant, still loved & much missed – Del 
LIVEBLOG 716am GMT: Very nice to see so many #Strummer tweets over on the old Twitter. I had some fears that people might be less likely to take the time to think about Joe after the 10 year anniversary last year had passed, hopefully some will be using whatever form of social media is kicking about long after I hang up the old keyboard. I see readers from Japan, Finland, Sweden and North America – don't be shy – leave a comment.
Right on lyrics and searching journey he enjoyed as a musician. Shocked speechless 11 yrs ago… still hard to believe. Most memorable live moment at Coventry Tiffanys when he stopped the band when he had tired of twats spitting. Joe promised to knock the next idiot out after the spot had shone on his dripping Tele. Next second BAM he dives into the crowd to deliver his promise; not a violent act as he had promised retribution. 2000 of us cheered as The Clash ripped up for two hours plus. Respect and love Joe Strummer massive hole left by him – Andre, Coventry
When you're out to get the honey you don't go killing all the bees – Michelle, South Africa
LIVEBLOG 735am GMT: Getting a little quiet now which makes sense, this continent is heading to bed while Europe is just waking up soon which means I'm counting on Asia to add some comments while I sleep. It's great to see so many of you joining in and remembering Joe today, I'd love to think Lucinda or his girls could somehow be aware of the everlasting impact. I was thinking a little earlier about 2013 and I think the saddest thing (in the world of all things Clash) has been the very public and popular year that the band have seen due to the box set and yet seeing them appear as a three-piece for all of the events they attended.  The lack of Joe was very pronounced and left a bittersweet taste for me. Right then, I might keep going a bit longer, but I feel we need some music. Leave some comments & keep me busy.
Remembering Joe Strummer, who died eleven years ago today. Always in our hearts – Matilda, Sweden
The world would be a better place if Joe Strummer was still in it – Luke
Simply inspirational you inspired a genaration then and now shine bright Joe – Steven P
11 years ago Clash frontman Joe Strummer died.A huge influence on myself and an iconic musician.Sadly missed.RIP Joe –  Seán
NEWS & EVENTS: Here's a really good tribute piece to Joe written on the Trustthewizards website, nicely put together and some photos you'll not have seen and I'll include one on the left for you. As for the author, he follows QPR which makes you worry but on the other hand he rightly puts Seamonsters by The Wedding Present in his top five albums of all time (he's right, it's number 3) so that is endorsement enough for me.
Lately, Graciela and I have seen all the signs of a widening generation gab between our parents' generation, baby boomers born in the 30s and 40s, and our own, us kids born in the 60s. The contrast is sometimes stark. We get the now hackneyed question, "Why are you so anger, why so hostile?" And the equally nauseating proclamation, "There was no good music after the 60s." From what we can tell, the 60s had very little effect on most of these so-called cultural rebels whose relentless quest for comfort and deference is indistinguishable from Eisenhower era zombies. Graciela and I laugh, we churn, we roil. Then we remember Joe. We remember Joe and smile. And sometimes cry. JOE, NUESTRO COMPADRE, NUESTRO HERMANO SIEMPRE, LA FUTURA NO ESTA ESCRITO! – Michael, Louisville, KY
I hope you are sitting around a camp fire Joe – still making music. Personally, The Clash came to NZ in the early 80's and an idiot spat at the band during the performance. Joe made a stance, rightly – that the band would not risk their health and would leave. They did but came back on, Joe said that any more idiot behaviour and they would be gone. A short time later I made my 1st journey to the UK. I was young, living in London..early one morning, in the misty morning Winter chill…no one around, I saw a figure dressed in black, coming up the road (Notting Hill) and as he got closer I recognised it was Joe. I was (sadly) a speechless, 'star struck' youth…… I kept staring at Joe, all the while thinking 'Thank him!..speak to him, speak to him'. Joe was looking at me, obviously he knew that I was a 'fan' and in (embarrassingly in awe) …. he winked, bless him. We passed, both kept walking. Joe, I wanted to thank you and the boys for coming all the way down here to Aotearoa and gifting the joy of hearing and seeing you guys playing live – even though you had to endure the stupidty of some of the audience. Thank you Joe for the music. Keep the campfire burning  – Edna
"Just stand by me.you're not alone" – Kathryn
 Loved Joe Strummer. He was a part of my young adulthood. Cried when I heard he'd died. I'll always be a Joe Strummer/Clash fan – Judy, Brighton, UK
Joe and the clash helped make a lot of us who we are! – Paul, Manchester
LIVEBLOG 5pm GMT: Yes I fell asleep, it happens. I fell asleep with headphones on listening to Streetcore and all my dreams were played out to the soundtrack of Minstrel Boy and I woke up with a headache. Now I've got a large pot of coffee on and will be updating the site again, some great entries above and loads of visits so thank you. I have to take the smaller people in the house out to complete their Christmas shopping so I'll be back and forth. Keep the thoughts coming and thank you.
I met him while he was touring with the Mescaleros…nice guy- very down to earth! – Jessica, Cleveland OH
11 years ago today we lost the Punkrockwarlord Joe Strummer, a day doesn't go by when he's either on the Hifi being talked about or the views he believed in being upheld in my world. Gone but NEVER forgotten! x – Sean C, Norfolk
For me Joe dragged punk rock out of the gutter and made me want to fight for racial and social justice. Meeting him backstage in Manchester will live with me forever. Mesmerising, and always spoke to you and not at you. Thank you Joe – Dominic, Halifax UK
NEWS & EVENTS: Lots of activities over on the Strummerville #Strummer wall if you fancy it on Tumblr. I try and do Tumblr a bit but it's a bit like listening to The Stranglers when you could have The Clash when it comes to blogging | Also this lass asked if we'd watch her cover of 'X-Ray Style' so I'll let you do that.
As someone once said, "the world needs Joe Strummer, now more than ever". Luckily, his Spirit still burns brightly; his passion still touches the lives of those who knew him and those who never had the chance to meet him; his words and music live on, and continue to inspire, educate, entertain and transform. He left so much in this world and we still miss him terribly on this anniversary of his death. Gone from this world but never forgotten! Long live, Joe Strummer! – Gina, Minneapolis
NEWS & EVENTS: Don Letts is doing his Joe tribute as ever on BBC 6 Music tonight at 10pm GMT so have a listen.
My Hero – Leon Nottingham (we even have a picture)
He was just great by the time when you just could not be great unless you were buying a stairway to haven. he and the band just f..did it – Gustavo, Belo Herizonte, Brazil
I always get back to Joe, his music, his words, his style, his weakness, his deep visions everytime I need to be inspired or regenerated. His wisdom come straight from his lifetime inquiry: trying to be human. Thanks Joe. Again. Forever. – Paolo, Pisa, Italy
God Bless Joe Strummer! – Scott K
RIP. Rest In Punk – Andres P
We miss you Joe. 'The Future is Unwritten.' – Drummerville 
Bolton band TVOD added 10 top Clash tunes to their set last night at the man and scythe in honour of this great man did em justice too – Roy, Bolton
Met Joe way back in '99. Such an inspiration. Here's my take on one of his tunes…http://www.youtube.com/watch?v=92fKJdkFMOk – Ben, Brunswick, Australia
¡Gracias! – Javier 
RIP Joe – Andrea R, Bogota, Columbia (hi Andrea!)
11 years ago today the world lost not only a tremendous inspiration but also a leader of mankind. My hero, Joe Strummer. – Gil R, Phoenix  (how are you Brother?)
My musical hero…miss you every day xx – Laura Gooner H, Islington & NYC – (back to the top of the league tomorrow!!)
LIVEBLOG 7PM GMT: I'll be leaving you to it for a few hours as like a muppet I have to take the little ones shopping, a true test of my resolve in shopping mad america. Please keep sharing the blog and loading up your memories – we've got a special post on the News site later today so look out for that and also tune into the CJAM Joe tribute (see above) and the Don Letts thing in 3 hours on 6 Music.  Behave yourselves.
 Hearing the news felt like I'd been punched in the stomach and I didn't really want to believe it had happened. Seemed weird and awful that someone who had effected me so much when I was growing up would no longer be around. I still miss him. At least I have my memories of The Clash and Joe like so many other people – Tracey, Kingston Upon Hull, UK
 I never really had too many role models growing up that I could turn to. Instead I turned to music. Joe was a person I could relate to. Words like "forget about your parents and deal with this" or "You either became a power or you were crushed", "year zero" resonate with me daily. It taught me at an early age that I could do anything myself if I can empower myself with my mind, my words, and my own will. Combine that with rock n roll and style and you can be unstoppable. Remembering Joe – Myke, Brooklyn, NY. USA.
Today and every day I am thankful for my clash family. I have met people from all over the world thru the only band that matters. Some I've never physically met, some who have become my closest friends, and some who overlap between the two. Sending our extra love to everyone missing joe tonight. Xo. – Jen, Philadelphia, PA
LIVEBLOG 2AM GMT: Well today didn't go quite as planned, I'm sure Joe would have laughed such was his skeptical nature about 'internet guys'. My two hour xmas shopping extravaganza ended up taking over six hours due to crowds everywhere, long queues to make purchases and then capped off with a small car prang in a manically over-crowded car park. Nobody hurt but that's more money I don't have going up in smoke. On a positive note thanks for reading today and we've had the most people visit the site in a single day for a few months which I'm thrilled about. Please do keep adding memories and comments as I'll be updating the blog sporadically for the next six hours or so I would imagine (I'm waiting on you Hawaii!)
Remembering my idol Joe Strummer today. Thank you for the music and inspiring me to pick up the guitar. No one has ever graced the stage with more passion and excitement than this man right here. I wouldn't be the same person I am today without your legacy. 1952-2002. – Kevin, Warminster, PA
NEWS & EVENTS: I just stumbled across this really good piece about Mick and Paul in NYC earlier this year on jukeboxgraduate.com, do go and have a read. I'm also fucking gobsmacked that the official Facebook page for The Clash haven't even mentioned the significance of today's date. It's beyond obscene and really a disgrace and if you want to argue that the Sony social media hack doesn't work on Sundays you can schedule Facebook updates in advance, so get your fingers out and maybe spend one day not focused on selling box sets?
"It is fun to be alive. It's a hell of a lot better than being dead." ~ Joe Strummer – Gosia
RIP Joe Strummer you truly were an amazing lyricist and the clash was such an amazing band – Brian H, Toronto
NEWS & EVENTS: Rolling Stone republished their 2003 piece (tribute) to Joe Strummer, still worth a look of course.
Eleven years gone… I miss him terribly. Thank goodness we have the music. The world is just a little less bright without him. Such a beautiful person inside and out. You are greatly missed – Jenn L, Philadelphia (hi Jen!) 
December 22nd always makes me sad. Because it marks the day that we lost the amazing Joe Strummer – Ryne, Taylorsville, UT
11 years since Joe Strummer passed on. The voice and conscience of my generation. RIP. You are missed – Hugh 
What do I glean from Joe's death?….'Spend your time wisely and pause long enough to appreciate it.' Happy Christmas to all my friends in real life and on fb. Health and satisfaction to all…. – The Baker, Global 
NEWS & EVENTS:  93 WXRT blog about Joe, a missed Mescaleros gig back in Chicago in 2001 and more, well worth a read.
LIVEBLOG 4am GMT: Well I'm still here it would seem and not for the first time the day has been so hectic that I've yet to really take proper time to reflect about Joe myself. Much of what I'd love to say has been written above but I'd only add that it's the friendships Joe made and the actions that he carried out that mean we're still discussing him and I think that will last and last. As I've written before few things are as warming as getting a message from an 18 year old in Mexico City or Sunderland, Auckland or Winnipeg and hear the sort of passion for The Clash that you'd normally associate with old school punks who were there back in 1976/7. It's a great thing to hear and something I simply wish I could pass on to Joe this evening but at the very least help make sure that some of you who read this who know Topper, Paul and Mick are perhaps able to pass on that message about the impact of the band ceasing to fade. It's marvelous, it's inspirational and it's exactly what great music and great actions should lead to. Thanks to everyone who took part today, I'll update more as needed – but these posts warm my heart. Cheers to you Joe for forming our gang.
A little snippet from a message to The Baker a year ago, I thought I would share it after some nudging. 'I could have been at the gig where Joe and Paul were arrested. On the day of the gig, a guy I worked with, I worked in Comet, offered me a ticket, but I didn,t take it. Believe it or not, but at that time I was only into football ( I have a love for the Celtic). One of the biggest regrets of my life .Only months later I was given the Clash first album as a present, and that was when I found my destiny (very dramatic). The day after the gig I heard all the stories about the night before. Rumours had spread throughout the city that the Clash would be the last ever band to play the Apollo as it was scheduled to close down the following day. It was expected that the brutality of the infamous bouncers would hit new heights. They certainly achieved this but at a price (well deserved). Outside the venue after the gig word got round that Joe and Paul had been jailed, so a large crowd of the fans ran down the street introducing some bricks to some shop windows. By this time Glasgows uniformed law representatives had gathered en masse and decided to arrest almost anything with a heartbeat. I have spoke to some people who were in the cells when Joe and Paul were brought in and told there was a few choruses immediately struck up of "I dont want to be the prisoner". Brilliant. One personal memory of the day of the gig was, while working on the Comet shopfloor, the guy I worked with gave me a shout to tell me that two guys from the band he was going to see were in the shop. Turned out to be Mick and Paul in buying batteries and blank tapes. I look back at that time and think to myself, if only I spoke to them, if only I took that ticket, if only i got arrested that night. Sadly, nothing I can change' – Stephen, Glasgow 
Joe Strummer gone but not forgotten – seen here giving money to a homeless person in NYC – photographer Bob Gruen said he never saw Joe pass a needy person without giving them something! – Peter Hooton
Tim, it's been awhile since you heard from me but you know I couldn't let the day pass without commenting. Even though I never had the opportunity to get to meet him I still think of him as a hero of mine. I mark the day as I normally do buy lighting a candle and playing his last record. I don't think I'll ever fail to miss him and to me he'll always be a friend – Noelle, Fairhope, AL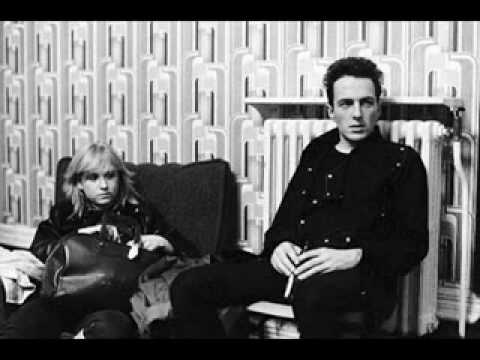 LIVEBLOG 440am GMT: Well now it's hitting me, crying my eyes out as I listened to the song above. Thank you so much for sharing part of your day here. Thanks to The Clash, to Joe, and for all of you. Be good to each other.
Gonna have a little warm saki soon. (all I have is that , or Bailey's) . I miss him , just like we all do. Funny though, I keep going back to Christmas 1981 , when Joe left NYC to spend the holiday with Gabs back in London. He was so worried about what I was going to do. – "all alone in NY" -he said- I had to remind him that I was from the east coast, had other friends, and that I was Jewish. He really didn't want me to be alone. I ended up making a meal at Busta 'Cherry' Jones' place for a bunch of Manhattan musos. We had fun. If Joe hadn't made such a big deal , I wouldn't have done it, and all the people we invited wouldn't have had a dinner to go to. I never told that story before, but it was on my mind all day. anyway. raise a glass to Joe , and have a Merry Christmas, a Happy Holiday season and be nice to each other. xoxo – Brenda, Vermont
"London calling to the imitation zone Forget it, brother, you can go it alone London calling to the zombies of death Quit holding out, and draw another breath"
Tim (The Clash Blogger), London | Chicago | Los Angeles | Phoenix | San Diego
The Clash Blog News ★ Twitter ★ Facebook ★ Google+ ★ Tumblr
 Pinterest ★ Donate to The Clash Blog ★ Purchase the 'Strummer of Love' book