Welcome back to the blog good people, I hope all is well wherever you may be.  Rather quiet here at the towers with the summer sneaking in and too much work to really plan a holiday I thank coffee for keeping me on track.
Few words are in order today as I wanted to provide a series of videos taken last week during the unveiling of the Joe Strummer mural in London. At concerts few things annoy me more than a sea of raised right hands filming the gig (use your eyes to watch the band, it's actually better…trust me) but at events like the one in Ladbroke Grove I'll change tune and thank those who filmed and photographed the event. Seeing as it only lasted a short while you collectively did a great job capturing it. In the days before the internet we'd be lucky to find a 2″ square photograph in the NME a few weeks after the event, how spoiled we now are.
I realise some of this might be a little repetitive but I also thought it helps those who have never been to London get a slightly better idea of Portobello Road and the surrounding area. I've also got some great interview clips that Herpreet sent me but am currently unable to embed them which is a great cause of frustration. Hopefully in the days ahead.
My thanks go to the following video contributors; Retroman & Floglobe. I've gotta get some sleep, tomorrow looks like a very long day already – back soon.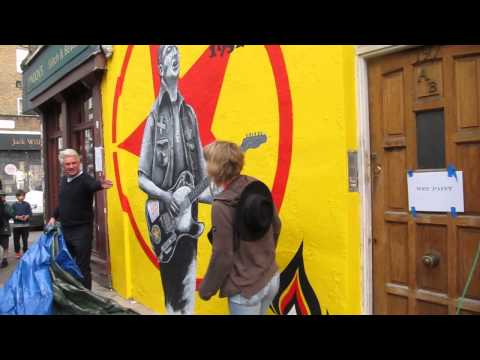 Unveiling – 0:37
George Smiley – London Calling 
Unveiling (2) – 0:23