Needless to say it's been a while since I've had the opportunity to update the blog. I often wonder how other bloggers manage to update every single day as I'd love to do the same here and there is genuinely enough news to justify that, perhaps because this isn't my cash paying job and life has been more than a little chaotic around here just recently I suppose. With that said I see a light at the end of the tunnel now and I don't think that it's a train (in vain).
I've also realised that the best will in the world won't generate the additional hour or two needed to write, edit, publish and distribute a blog post and that only having the time will do so, so I'm pushing to keep the blog going. As a result I'm looking at playing catch-up over the coming days and will apologise in advance if some, most or all of the stories I share you've already stumbled across. Then again I'd hate for you to miss stuff, so let's get cracking.
Whilst Mick and Paul were recently in New York to promote the Sound System box set they also hooked up with Clash fan/comedian/musician Fred Armisen. You may well know Armisen from his extended residency on Saturday Night Live (I don't watch it) or Portlandia (I do watch it) but I'm more interested in his musical taste as evidenced here when playing a song by The Clash at an instore performance. Anyway in the guise of his character Ian Rubbish he created this mildly amusing spoof interview for Funny or Die with the lads that looks at the career of The Clash along with the impact on his own band (which are the funniest moments) 'I wanna riot…as well'. Naturally it's essentially a punk six minute version of Spinal Tap but Mick seems to be enjoying himself and Paul seemingly less sure as to whether he ought to. The back story to it coming about on Billboard is well worth a read and tells how Fred was a teenage fan of the band and his tales of seeing them play and meeting them 30 odd years ago.
If you like winning stuff for free than look no further than this link to Legacy (Sony) for the chance to win a collection of all of the remastered vinyl along with an autographed copy of Hits Back and a t-shirt. Yes it all sounds a bit swap shop but it's a prize giveaway and you just might win, if you lose you'll get emails about Boz Scaggs and Billy Joel reissues.
Finally for now a new post by The Baker who has in the past graced this very site. He now writes his own blog and his latest piece concerns a recent visit back to England and his impressions of The Clash street shop (can't write pop up) in Soho. His thoughts are intriguing and perhaps a bit controversial but then again he was part of what is being displayed so it does give him a unique perspective. Simply ask yourself if Sony could have made the whole experience more interactive, colourful and fun first and I'll think you see he has a point.
Speaking of 'the shop' the rumours that it would go 'on tour' after the run in London are now confirmed with a New York appearance slated for a month from now, more details as I have them.
Right then work beckons, but thanks for dropping in and more very soon.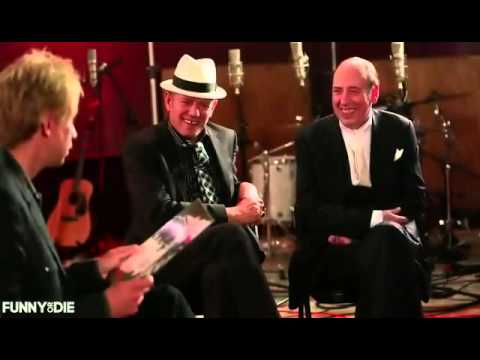 Ian Rubbish meets Paul and Mick